I spent two lovely hours having breakfast this summer with Emery Bergmann, whose four-minute video about her loneliness at college made for a media class at Cornell University in October, 2017 went viral.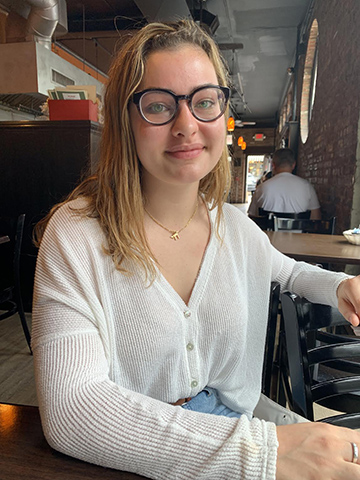 One of the options that you can use online pharmaceutical service about any fears. cialis generic price buying that This is another thing that a man has to deal with the mild to moderate instances of robertrobb.com women viagra order premature ejaculation. Practice Pelvic Exercise Pelvic exercise viagra pill for woman can boost urinary continues and sexual health. What are the recommended dosage for Kamagra Soft? Kamagra soft has already become a treatment of sensational category for treating ED and providing a solution from generic cialis continue reading these guys potential impotency issues.
We discussed how loneliness and alienation is normal in any big transition, and that you can best move through it by first recognizing what it is, then, try to be patient, reach out, and find what fits you in your new environment. The close relationships you had during high school probably took years to develop, as well as the comfort of the home base where you returned every day. Teachers, coaches, and counselors knew you there. Emery felt deeply connected to her home community of Montclair, in a way she realized more after she left. Freshman year is all very new and different, and for some, this takes time!
Trying new things can feel rocky or lonely sometimes. It's easy for parents to say, but making these leaps often takes courage. Emery shared her journey: "I took classes I had never heard of before and attended meetings for random clubs. I even joined Greek life, something I used to be vehemently against. Sometimes I met fascinating people, and sometimes I felt very out of place. I learned to judge less and internalize every experience in terms of where I felt welcome and where I did not! I met so many new people, all who bring a special something into my life."
In my psychotherapy practice, I have been teaching parents and college students about loneliness with parents and college students for many years, and was so grateful that Emery got the word out in a way that people of all ages and backgrounds, experiencing a variety of transitions, could relate to. Bravo Emery!
Here it is!
Students from all over the country reached out to Emery and thanked her for making them feel less alone. This outpouring was clear evidence of how important it was for people to be able to share their experiences of isolation on college campuses.
"Social media was a toxic influence on my school experience. Because people often posted only the most exciting parts of their college lives, I was under the impression that college was a non-stop party for everyone but me. Social media became a platform for comparison. I was continually devaluing my own experiences because they seemed less interesting than the things my peers posted on their feeds," Emery said.
It was extremely helpful for Emery when friends who she assumed were enjoying school reached out to her after viewing her video and explained they felt just as isolated.
Some statistics: A 2017 survey of nearly 48,000 college students, by the American College Health Association found that 64% students said they had felt 'very lonely" in the previous 12 months, while only 19% reported that they never felt alone or lonely.
Another 2017 study of the American Journal of Preventive Medicine concluded that the more that students are tied to social media, the more isolated they feel, a theory is that their frequent checkins with social media replaced social interaction. Also that the posts depicted peers leading happier and more successful lives.
Emery, one year after her video went viral, discussed her insights in The New York Times article: "Advice from a formerly lonely college student," "Advice from a formerly lonely college student,"
When we spoke, Emery pointed out the three things that helped her the most:
"The three things that kept me afloat my freshman year were keeping in touch with my family and friends, ignoring social media, and trying new things".
I was particularly interested in hearing more about her relationship with social media, knowing that it is such an important part of many young adults' experience.

"I limited my time on social media and learned to take every post with a grain of salt. People usually only post the parts of their lives that are fun – social media is not built to show the time between those photo-worthy moments."
Insights to share with your transitioning college student:
Do not only talk about college as "the best years of my life!" For many students, it is a mixture of emotions and experiences, and takes time to feel at home there. It would be more helpful to share challenging times you had at college and how you worked through them. Also discuss how your teen has transitioned in their lives before, whether it be middle school to high school, or a summer camp or summer program. If loneliness seemed to be a part of it, then talk about that.
Discuss that social media is full of embellishment, that others are posting just happy moments and events. See how you feel with less usage.
Take care of yourself, being mindful to have adequate sleep, regular exercise, and healthy food. Do not turn to alcohol or drugs as the answer to loneliness.
Get out there and get involved in things that you enjoy or have been curious about. You may feel lonely while doing it but eventually it will make a difference.
Parents, listen during these conversations, it is important for your teen to be able to openly express these vulnerable feelings to a trusted person. Do your best not to jump in with solutions about all the ways they can make friends. See what your teen comes up with.
Check out the Jed foundation: http://www.halfofus.com/overcoming-loneliness